Model Course 1
Area South of Toyama Station
Hop on the Centram and tour around downtown Toyama, on a course that combines both new and old cultures.
1. Starting at Toyama Station, jump on the Centram and head to the Kokusaikaigijo-mae stop (about 6 min). From there, it is just 3-min walk to the picturesque Toyama Castle Park. Have a look around and check out the Toyama Castle History Museum while you are there. The huge flat rocks in the castle's stone wall are also a must-see. These large rocks were said to be a symbol of the daimyo's power.
2. Next, get back on the Centram at Kokusaikaigijo-mae, travel 10 min, and get off at Grand Plaza-mae. It is only 2-min walk to the famous Toyama Glass Art Museum. Don't forget to check out the library's stylish design.
3. After you're done, take a 3-min stroll down to the Ikedaya Yasubei Shoten where you can try your hand at rolling traditional medicine pills, or purchase some medicines in retro-style packaging; they make great souvenirs.
4. Once you're finished, walk for three minutes to the Nishicho tram stop. From there it is a 14-min ride back to Toyama Station.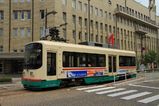 Approximate cost

¥1,000
(Three tram rides plus entry to the Toyama Castle History Museum and Toyama Glass Art Museum.)