Welcome to Toyama!

Follow your heart to Toyama and you will find history that influenced the ages.
Listen carefully and you will hear the breaths of artists who gave birth to masterpieces.
Immerse yourself in history and culture from ancient times to the present day, in this city abundant with water and greenery.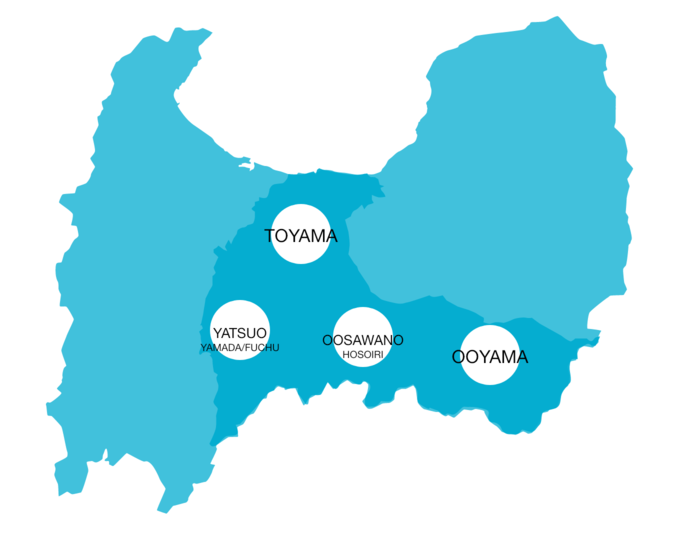 City Center (Toyama)
Known as the "City of glass Art", Toyama City is home to the fascinating Toyama Glass Art Museum, as well as numerous other museums and shops, including a famous traditional oriental medicine store. Get a bird's eye view of the city and surrounding area from one of many observation decks, or take a relaxing cruise along one of the beautiful canals. Toyama Castle Park and Kansui Park, where the world's most beautiful Starbucks is located, are easily accessible by the modern tram system that services the city.
Alpine Route Area (Ooyama)
The Tateyama foothills are blessed with abundant nature and breathtaking scenery. A dream location for outdoor enthusiasts, they offer a thrilling zip-line adventure course, mountain trekking, skiing, and a whole lot more! The Alpine Route is a popular area where you can take a tour along a road surrounded by 20m high walls of ice! Also, you can't miss Mikurigaike (pond), with its crystal clear water and beautiful reflections of Mt. Tateyama on its surface. There're also three ski fields to choose from, a relaxing hot spring town, and five picturesque trekking courses accessible by gondola lift, which also provides access to spectacular panoramic viewing areas.
Gorge Area (Oosawano & Hosoiri)
The stunning Jinzukyo Gorge, consisting of the Jinzugawa river and the surrounding mountain ranges, provides splendid scenery year-round. With several facilities dotted around the area, you can enjoy a range of outdoor activities or look out over the river and valleys while relaxing in a hot spring. Take a walk across the Sasazu bridge with its beautiful concrete arches, while taking in the amazing background scenery. There's also a campground complete with cottages and log houses, where you can enjoy leisure activities such as fishing, park golf, stargazing etc.
Country Side Area (Yatsuo, Yamada, Fuchu)
Whether its the hilly town of Yatsuo, famous for its Owara Kaze-no-Bon Festival, the nature-rich Yamada area, or Fuchu with its mix of historical heritage and leisure facilities, each destination is packed full of its own special sights and activities to enjoy. The huge Yatsuo festival floats, with their elegant engravings and lacquer work really are a sight to behold. The Yamada area offers camping and family-friendly outdoor activities, with a giant sledding slope and kids corner. Fuchu features an animal farm with cows, goats and ponies, ancient temples and the biggest sports park in Japan, where you can test your skills at skateboarding, rock-climbing and more!